Locally Owned | Local Experience | Local Community Lender
 33+ Years in Business
What are the benefits of One-Time Close Construction Loan?
In today's rising interest market, you will be able to:
Get a 90% LTV conforming loan amount of up to $726,200  or a JUMBO Construction loan of up to 2 million at 90% LTV.
Qualify only once!  With only one Appraisal!
Interest Only Payments during the Construction phase.
Take up to 12 months to build.
Pay Closing costs only once! Saving thousands in upfront expenses.  LOCK IN YOUR INTEREST RATE TODAY!
The loan is serviced right here in Oklahoma.
What are the Qualifications for our One Time Close?
A minimum credit score is 650
Must use an Approved Builder or General Contractor that is a member of the Oklahoma Home Builders Association
Owner Occupied
No Mobile, Manufactured, or Modular Homes
Barndominimums are allowed, subject to acceptable appraisal
What is a One-Time close construction loan?
You need only qualify once and pay a single set of closing costs.
With this loan, you receive both an interim construction loan and a 15 or 30-year permanent loan simultaneously. When the house is finished, the loan automatically switches to permanent financing with a free flow down interest rate option. In addition, the program offers 90% LTV up to $726,000.
YOU ONLY NEED TO QUALIFY ONCE- REDUCED CLOSING COSTS
A One-time close construction to perm loan only requires you to go through this process once! That means you can move through the building steps with peace of mind, knowing your permanent financing needs are already in place and will automatically convert to a permanent loan at the end of construction. In addition, a one-time construction loan eliminates the redundancy of a two-time close by having a single closing and a single set of closing costs. Subsequently, you only have to pay the closing costs once and save thousands of dollars!
A one-time close construction loan requires one appraisal before closing the loan. That means no surprises with two home appraisals when the house is completed and only one appraisal fee!
In today's rising interest rates, you will be able to:
Lock your long-term 15 or 30 years interest rate at closing that will not change, regardless of the market conditions. Knowing that the rate will not increase during construction gives you greater security that your payment won't be subject to change.
No Money Down with Land Equity
If you own your land outright, you can put the equity towards the down payment requirement of 10%. Or pay off the balance of the land loan with the One-Time Close loan proceeds. As a benefit, the loan will be considered a refinance if you own the property before the application. Therefore, the Loan-to-Value will be calculated from the requested loan as a percentage of the land's total appraised value plus improvements.
In many cases, the Land Equity will reduce or eliminate the required down payment.
How can a One-Time Close Construction Loan Benefit You?
Most construction loans require two separate closings. But the One-Time Close combines them all, saving you time and money. In addition, you are protected from rising interest rates during the construction phase. As an added benefit, you will not have to re-qualify for the permanent mortgage, which can make many borrowers anxious about their credit scores or income levels changing when the construction ends.
What is the construction term for a one-time construction loan?
The construction portion of the loan can run anywhere from 6 months to 12 months, giving the builder plenty of time to complete the house and sell your existing home.
During that period, you pay monthly interest only – on the amount that the lender has disbursed and based on the stage of construction.
What makes up the Construction Loan Cost?
Land Value may be purchased at closing with proceeds from the construction loan. However, you may already own the land; in that case, the new loan will pay off your existing construction loan. Or you may own the land free and clear.
Hard Costs are tangible costs associated with the home's construction, including materials and labor costs.
Contingency Reserve covers unforeseen costs or upgrades in the home construction that usually consists of an additional 10% of the construction costs. This is generally recommended on all contracts to cover change orders or upgrades.
How are draws disbursed from my construction loan?
A total of five draw disbursements are made on a work-completed basis and occur as the work progresses. Subsequently, your builder submits five separate draws to pay the construction cost during the construction phase to your construction lender.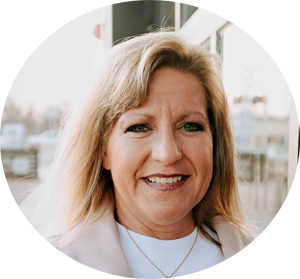 Jennifer Buffington – Sr. Loan Officer
If you want to learn more about a One-time close construction loan, call Jennifer Buffington 405-348-9919 or my cell at 405-201-4829.
Whether you prefer to talk in person, on the phone, or simply complete an application online.
– "I'm laser-focused on making your construction loan experience easy, seamless, and pain-free."